Sinus Trouble and Chiropractic
Each year, more than 40 million Americans suffer from some variety of sinus trouble. Sinusitis can cause pain and pressure in the head. Children to the elderly can develop sinusitis, but the most common occurrences of sinusitis occur in adults. Many people who are looking to treat their sinusitis without drugs or surgery are turning to chiropractic for help.
With sinusitis the tissues fill up with mucus and the drainage slows down or stops completely.  Pressure in the sinus cavities increases causing pain, swelling and clogged nasal passages.
Dr. Miller has found that when a sinus condition occurs, the nervous system generally is affected by interference in the transmission of vital nerve impulses from the brain to the sinus area. Until this interference is removed, there is little chance for the body to restore itself.
The brain is the command center of the nervous system. Vital nerve energy is transmitted from the brain to the various parts of the body by means of the spinal cord and the spinal nerves, emanating from the spinal column.
Interference in this energy flow results in a "Subluxation" a misalignment of one or more of the spinal vertebrae. This might be due to an accident, muscular tension, even a slight bump or jar which "you may not have noticed. This distortion in the impulses being transmitted eventually causes malfunction.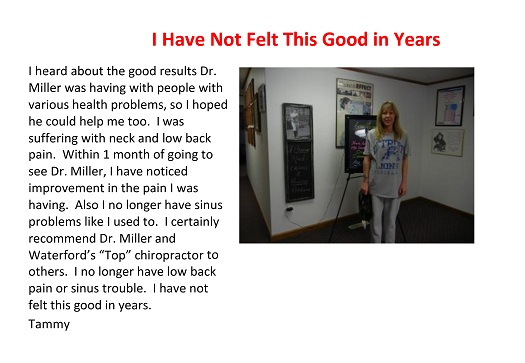 Locating the offending subluxation is the specialized skill of the Dr. Miller. He is trained to determine which segments of the spine have become misaligned. Determining the affected area by examination and spinal analysis, Dr. Miller then eliminates the impingement through chiropractic adjustments. Once the nervous system is functioning normally, the body is able to restore itself to peak efficiency by its own healing process.
Scheduling an appointment with Dr. Miller may actually save you a lot of grief in the long run, and decrease your chances of contracting sinusitis, which at least 35 million Americans experience once a year.
---
Sinus Trouble and Chiropractic | (248) 674-7300