Shoulder Pain and Chiropractic
Does your shoulder hurt when you reach into an overhead cupboard? What about that soreness in your shoulder when placing your arm into a coat sleeve? If you have to "change" arms to lift a milk carton—you've waited too long to seek relief! You depend on the flexibility of your shoulders each and every day… whether you work on computers, carry small children throughout the day, or enjoy painting as a hobby. When your shoulder is sore and stiff, you quickly realize just how important it is to have flexible and mobile joints.
Shoulder problems can be caused by poor posture, work habits, even car accidents. These in turn create spinal misalignments in the spine called a vertebral subluxation.
The chiropractic approach to shoulder pain is to find its underlying cause.
The brain is the master controller of the body, telling every muscle, tissue and gland what to do every moment of every day. The brain communicates through the spinal cord, which includes nerves branching out like roots of a tree. Every muscle, tissue and gland is plugged into this integrated system, which we call the central nervous system. The life force, or physiological communication, travels through this system to allow the body to function at its optimum level. The spinal column, which protects this integrated system, must be in proper biomechanical alignment to allow proper nerve flow to all parts of the body.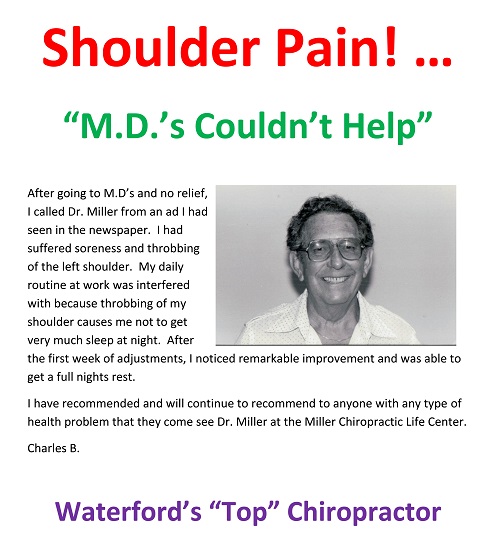 Most people think of an injury as something that happens after an accident or a fall. This is not always the case. Your shoulder joint "injury" may have resulted from accumulated joint stress over time.
If you've been told, "You just have to learn to live with the pain…" please call to schedule an evaluation with our office today. Shoulder problems often respond very well to adjustments without the need for medicine or surgery! Remember, anti-inflammatory and pain­ killing drugs only mask your symptoms; they don't correct the problem. Chiropractic care helps to restore the normal function of your nerve system. That's how we keep your shoulder joint flexible and working pain-free, naturally.
Dr. Miller has a history of producing excellent results with those suffering from neck pain with out pills, potions or lotions.
At Waterford's "Top" Chiropractor we specialize in reducing interference to the nervous system in the neck and shoulder areas of the spine.  Many of our patients find that chiropractic care gives them relief from both minor and major neck and shoulder complaints.
---
Shoulder Pain and Chiropractic Care | (248) 674-7300