Whiplash
You just had a fender bender and you're probably thinking, "Oh, I'll be just fine." But a few days pass and you aren't so "fine" after all. Your neck starts to hurt and feel tight. You may feel numbness in your arms. The worst thing you can do is "wait" and hope your symptoms will just go away. By seeking prompt chiropractic attention following a whiplash …you can save yourself time and money by preventing more serious problems from developing later on.
If you're in pain at the present time, Dr. Miller can help you naturally reduce your pain, without drugs or surgery. Once you've had an accident, you need chiropractic care, NOW!
Regardless of the nature of the whiplash injury, the vast majority of injuries involve soft-tissue damage (ligaments, tendons, cartilage, discs, nerves, and muscles)' and vertebral misalignment. Whiplash injuries can cause vertebral subluxations, resulting in an irritation of the spinal nerve roots.
Vertebral subluxations can cause "pinched" nerves that result in painful symptoms in almost any part of the body they serve. That's why people who have had a whiplash report so many "seemingly" unrelated symptoms after the injury. It's not just the nerves that are affected. When your neck is "hurled" in one direction and then another-ligaments, muscles, and tendons of your neck stretch too far and can actually tear! Once the supportive tissue becomes loose, torn, or stretched as a result of whiplash, they are no longer able to hold.
Left untreated, whiplash is no laughing matter! It can lead to chronic pain, restricted movement and even degenerative arthritis later on in life.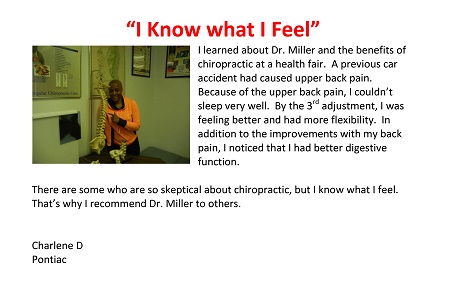 Symptoms can be delayed for days or even weeks. Schedule an exam immediately after you've had an accident!! If you or someone you know has had a whiplash injury, there's no need to suffer any longer! Chiropractic adjustments can realign the spine and remove painful nerve interference caused by whiplash. Do you have an old neck injury? Chiropractic adjustments can often halt or slow down the degenerative process.
Get to our practice for an examination!  Call Dr. Miller now
Specific chiropractic spinal adjustments, because they can help restore proper motion and position of individual spinal bones, can help promote proper healing.
The longer you wait the more unseen damage there is and the longer it seems to take to recover.  Contact us today.
---
Frequently Asked Questions:
---
Whiplash and Chiropractic Care | (248) 674-7300