Back Pain
Pain in any area of your body is a sign that something is wrong. It's a warning signal, like a signal from a smoke detector.
You might not be able to able to go to work, play with your Grandkids, do household chores or even enjoy your days off.
As much as 80% of the population suffers from back pain at some point in their lives. Back pain is the second most common reason for visits to a doctor's office!
A fall or accident can be an obvious cause; however, sometimes it's the simplest moves, like picking up something from the floor or tying your shoes that can have painful results. Stress, obesity and poor posture can aggravate your back pain as well.
Don't ignore that dull nagging ache, back spasm, sharp pain, occasional stiffness, numbness or tingling anywhere along your spine. Back pain can quickly rob you of quality life and, untreated, can become disabling!
Chiropractic care involves precision spinal adjustments designed to increase the range and quality of joint motion. It's a proven safe and effective way to prevent and correct back pain.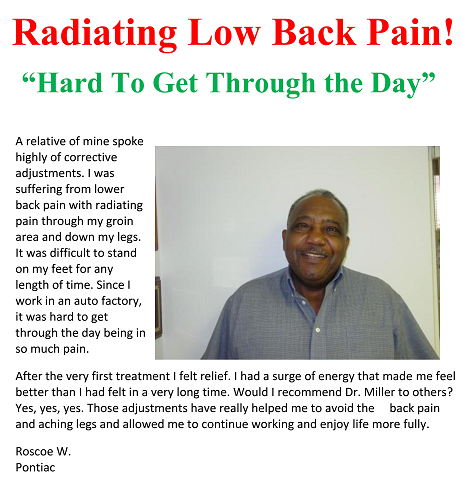 he brain is the master controller of all functions in our body. It directs every muscle, tissue and gland to do every single thing our body is supposed to do – every moment of every day. The brain communicates with the body through the spinal cord, which is where nerves originate and branch out just like roots from a tree. Every muscle, tissue and gland is integrally plugged into what we call the central nervous system. Our life force (nerve flow) travels through this system, providing the body with the ability to function at its optimum level. The spinal column, which protects this core system, must be in proper bio­ mechanical alignment to allow the nerves free and clear access to all corners of the body.
Dr. Miller specializes in finding misalignments (subluxations) in the spine because, no matter how simple or severe they may be, misalignments put pressure on nerves, thus interfering with proper nerve interference will cause your body to function at levels below your optimum.
Proven Reasons Why Chiropractic Works Consistently…
Chiropractic is a gentle, non-invasive, non-surgical and drug free approach.
Patient satisfaction and positive results have been proven for over a century.
Spinal adjustments can lift pressure from the nerve roots in an effort to restore joint function, reduce inflammation and enhance disc health, naturally!
Frequently Asked Questions:
---
Back Pain and Chiropractic Care | (248) 674-7300